Want a True Luxury Pre-Owned Sports Car? Test Drive a Used Porsche Boxster Today
Experience the Unrivaled Thrills of a Used Porsche Boxster for Sale at Porsche of Tampa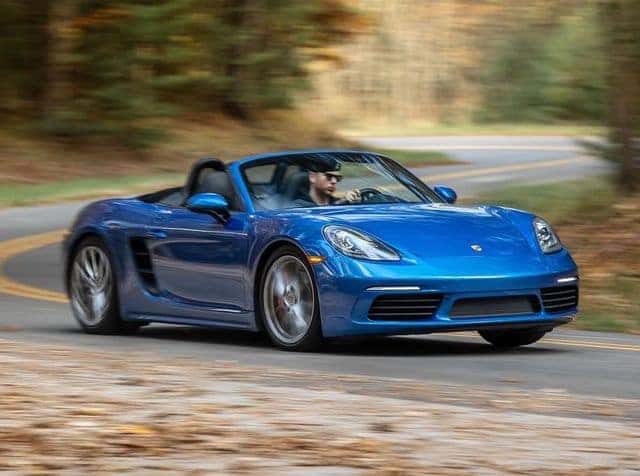 Over the course of the past 20 years, few models have so consistently upheld a reputation for unrivaled performance like the Porsche Boxster. From its stunning looks, to its heart-racing driving capabilities, to its lavish interior, the Boxster delivers an experience like no other. If you're looking to get behind the wheel of a luxury pre-owned sports car, it's time to check out a used Porsche Boxster for sale now at our Tampa dealer.
See Why Your Used Porsche Boxster Is a "Standout Performer"
Let's take a look at why experts recommend a used Porsche Boxster, for sale now at Porsche of Tampa:
"The 718 Boxster package is spot on." "For: Packaging, interior design, economy, torque, gearbox, roof mechanism."
US News Rankings and Reviews
"The Boxster is a standout performer even in this loaded class, and it has a premium interior and a solid predicted reliability rating to boot." "Outstanding handling." "Powerful, efficient engines." "Posh interior." "Spacious seats."
"Looks like a dream, drives like a dream, is a dream."
"If you're looking for serious levels of performance, love the Porsche badge but have a somewhat constrained budget, the 2019 Boxster is worth serious consideration."
"Few automobiles provide as pure a driving experience as the 718 Boxster." "You'll have a hard time finding seats that are more comfortable and more supportive." "It's one of the world's best sports cars."
One of the world's best sports cars? Recommendations don't get much better than that.

Test Drive Your Used Porsche Boxster at Tampa's Leading Luxury Pre-Owned Sports Car Dealer
Your used Porsche Boxster is for sale now at Porsche of Tampa, the region's leading luxury pre-owned sports car dealer.
At Porsche of Tampa, you'll enjoy the area's most expansive inventory, allowing you to find the option that offers everything you're looking for. What's more, every pre-owned vehicle we offer adheres to our strict quality standards, which means they've been carefully inspected and reconditioned by our expert service team. Finally, we ensure an unrivaled echelon of convenience, from our convenient location, to our expert sales team, to valet test drives right at your home or office.
Check out our used Porsche Boxster selection online now, or call Porsche of Tampa at (813) 337-6616 today.